&nbsp

In early December 2001, Brad McDonald, JR Fisher, and Spring Brooks journeyed to Hawaii. The group went for the 60th anniversary of the bombing of Pearl Harbor. Spring also went to visit family.

The National Volcano Observatory is situated on the rim of Mt Kileau, the home of the Goddess, Pele. It was very windy, rainy, and cold -- in December. On one side of the volcano was desert while the other side was rain forest. A large lave tube was open to the public. See Brad climb out of it (last photo) -- someone had to climb down into the volcano. A thick crust had formed over the still-molten lava, with sulfur and steam still creeping from the fissures. Natives built lava rock tributes to Pele in the caulderon (first photo). See JR "really" hanging onto the sign (photo #7).

Further on the Big Island was Mt. Mauna Loa where there were 15-20 international observatories. It was below freezing and it got hard to breathe.

From the side of Mt. Kilaeu, a long flowing eruption is pouring into the ocean.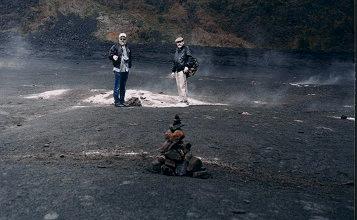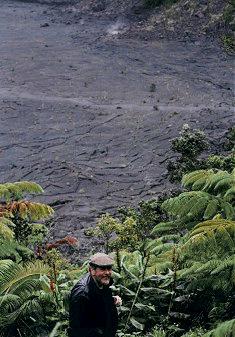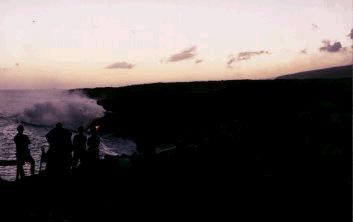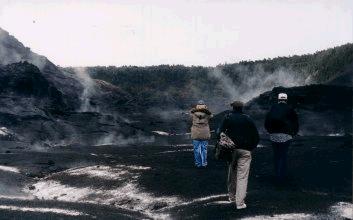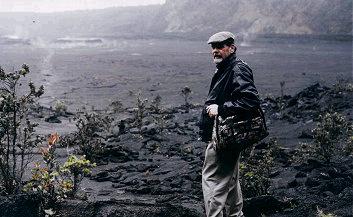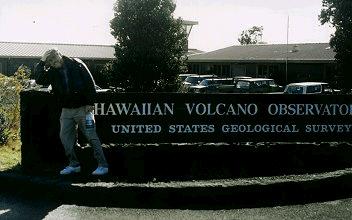 &copy 2023 U.S.S. Kitty Hawk
Star Trek and all related marks, logos, and characters are solely owned by CBS Studios, Inc. This fan organization
is not endorsed by, sponsored by, nor affiliated with CBS, Paramount Pictures, or any other Star Trek franchise.